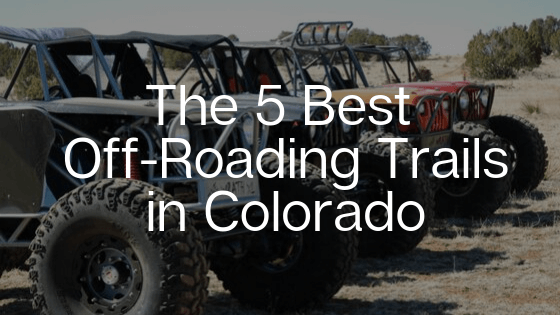 Colorado is an off-road vehicle mecca, with hundreds of trails readily accessible on public land with breathtaking views in all directions. Most of these trails can be driven with a stock off-road vehicle or a slightly more built rig with larger tires, lockers, winch, and armor. However, these trails are not the focus of this article, as we are going to review the extreme trails that the state has to offer. All of the following trails provide the ultimate off-road challenge and will demand a highly modified rig or a buggy to conquer. Many of the obstacles on these trails are near-vertical climbs and off-camber side hills that require driver skill and nerves of steel in order to avoid becoming a highlight YouTube video by ending up on your roof. All of these trails require a very well-built rig with a minimum of 37" tires, lockers front and rear, a winch, a well-built cage (not from the OEM), armor in all the right places, built axles (one-ton or stronger), and aftermarket gearing. Some of the trails on this list will punish a vehicle with an OEM sheet-metal body. Many of the vehicles that run these trails are tube chassis buggies with 39" and larger competition sticky tires and built one-ton axles or aftermarket axles from Spidertrax or Dynatrac. Some vehicles even fill the front tires with water to give them a traction advantage on large waterfall-type climbs. 

So here is the list. Please enjoy!

Hardcore Trails to Challenge the Most Capable Off-Road Vehicle
Carnage Canyon
Carnage Canyon is a popular hardcore off-road vehicle trail located near Buena Vista that is known for dishing out a lot of body damage to full-bodied rigs. The trail runs up an intermittent/dry creek bed and is less than a mile long. Don't let the distance fool you. It can take several hours to complete, depending on how many vehicles are on the trail and the amount of breakage/rollovers. The trail is located right next to Chinaman Gulch, which is also a very cool trail, although much less difficult. There are many challenging obstacles on Carnage Canyon, but the most famous are the waterfall, the V-Notch, and the Exit. The waterfall is challenging, as it is always wet and muddy. Unless you have sticky tires, you will need momentum and wheel speed to make this obstacle. The V-Notch is as the name implies, and it will do its best to flip your vehicle on its side. The Exit also offers a couple of optional lines that are definitely not for the faint of heart, as they are essentially vertical climbs. One of the best features of Carnage Canyon is that it is located at a lower altitude and can be run year-round.

Independence/Patriot Trail
Located near Penrose lies the Independence Trail system. It consists of three main trails: Independence, Liberty, and Patriot. The Liberty Trail is by far the easiest of the trails and would not make this list. However, Independence and Patriot are both considered to be some of the most challenging trails in the state. Independence trail runs into Patriot, so they are usually run back to back. The trails are famous for the obstacles Bunker Hill, A-Hole, and the Exit. Bunker Hill has a near-vertical wall that can be run up or down, and the further to one side you venture, the more difficult it is. The A-Hole is a 90-degree turn in the trail that is essentially a six- to ten-foot-deep crevice. The trail will suck your rear tire into the bottom and will attempt to flop you onto your passenger side. Finally, the Exit is a two-stage climb that has destroyed many drivetrain parts in its history. The trick to getting to the top is getting your front passenger tire in a groove on top of the obstacle.

Holy Cross City
In our opinion, this is one of the most scenic off-road trails (easy or difficult) in the state. It doesn't have as many extreme obstacles as the other trails in this article, but it makes up for it with amazing views. If you can make it to the end of the trail, you are rewarded with spectacular views of a high alpine lake system and massive snow-capped peaks. There are a few challenging obstacles on the first part of the trail until you reach the French Creek crossing, but none are considered extreme. French Creek is a very beautiful mountain stream crossing that offers some challenges with large boulders and minimal traction. There is usually a wait on this obstacle during weekends. The next point of interest on this trail is the trail's namesake – Holy Cross City. This is an abandoned mining town that operated in the late 1800s. It is hard to imagine how difficult it would be to shuttle miners, gear, and ore back and forth off of the mountain with only mules. This is the last stop before the only truly extreme obstacle on the trail – Cleveland Rock. This is a near-vertical massive rock climb that becomes more vertical the farther to the right you go. Many a vehicle has flopped on this obstacle.

Ten Falls
Located near Gypsum off of the I-70 corridor, this trail is aptly named, as it consists of running up a dry creek bed with many high-angle climbs. This trail is no joke, with a bounty of extreme obstacles and no bypasses. One of the climbs was measured to be over 8 feet vertical, and all of the climbs are undercut. There is a good possibility of a backward rollover and drivetrain damage on this trail, so bring spares. This trail is famous for people starting early in the morning and not finishing until 2 am the next day. Running it without damage takes several hours.

Montrose Area – Boulder Canyon/Death Row
A few miles outside of Montrose lies a rock-crawling fantasy land with a large number of amazing trails. The really cool thing about this trail system is that many of these trails did not exist until recently. Off-roaders and the BLM came together and made some epic rock-crawling trails. The most difficult trails in the system are Boulder Canyon and Death Row. These two trails offer massive boulders, off-camber climbs, and huge holes. To make things even more interesting, Boulder Canyon offers a waterfall near the exit that is about 10 feet high. Bring your spare parts and your courage, and plan to stay at least a few days to explore this amazing area.

If you're ready to hit the trails but don't have the off-road vehicle for the job, contact us. Sessions Motorsports is more than just an average off-road vehicle shop. We cater to people looking for a high-performance vehicle who are interested in more than just a bolt-on suspension kit from a catalog. We take the time to learn what you want out of your vehicle or custom build. And then we provide the design and engineering to make it happen. If your goal is to be on top of the podium or conquer extreme trails, talk to us.